EU Innovation Radar Prize - Runner-up Trophy for Verified Systems International!
Dear customers, dear friends,
Our sincerest thanks for your support in the public opinion poll for the EU innovation prize!
Verified Systems International has been awarded the runner-up trophy (i.e. the 2nd prize) for a novel test strategy  with guaranteed error detection capabilities. The strategy uses a new method for automated equivalence class partition testing of complex control systems. This new test automation functionality will become available to our customers in the January 2016 release of the model-based testing component RTT-MBT in our RT-Tester test automation system.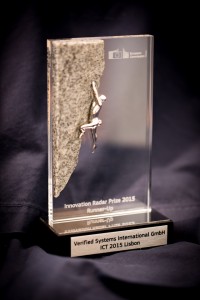 We are very happy with this outcome: according to the EU organisers, more than 1000 innovations had been analysed to determine the shortlist of 14 competing companies. And to have an embedded systems testing innovation based on formal methods on rank 2 is a very encouraging result for the V&V industry, because it shows the attention that verification and validation of safety-critical systems is getting from the European Research Commission.
On the ICT 2015 website, paragraph "Innovation Radar", the winner (an invention about batteries for electric cars) and runner-up (our company Verified Systems International) are listed, and a video link to the award ceremony is given.
More details about our innovation can be found on the Digital Agenda for Europe blog.
Once more, many thanks to all of you for your support!
Your Verified Systems International team